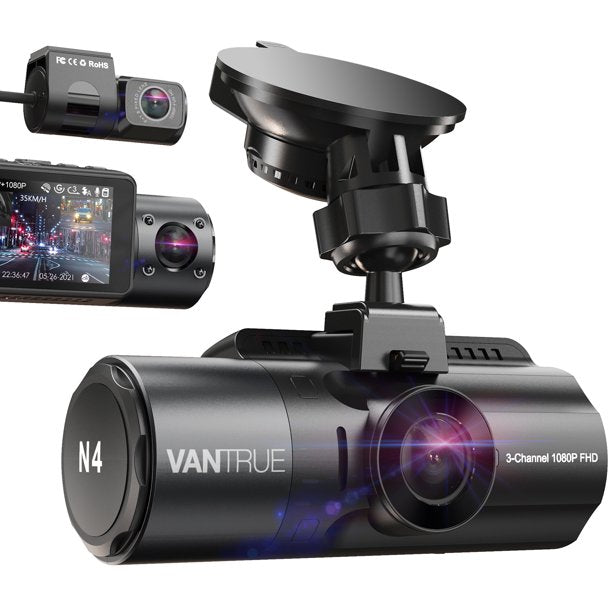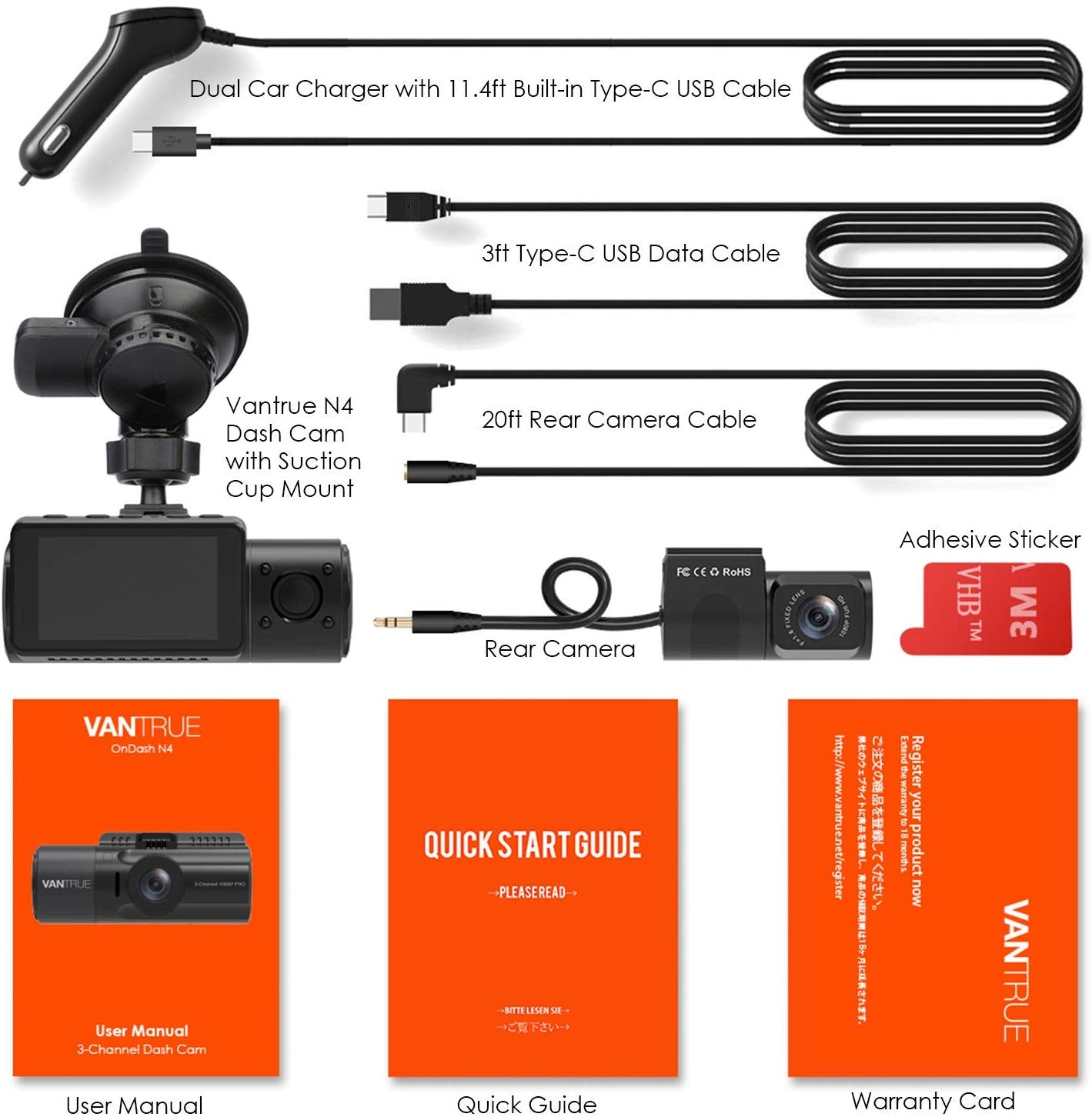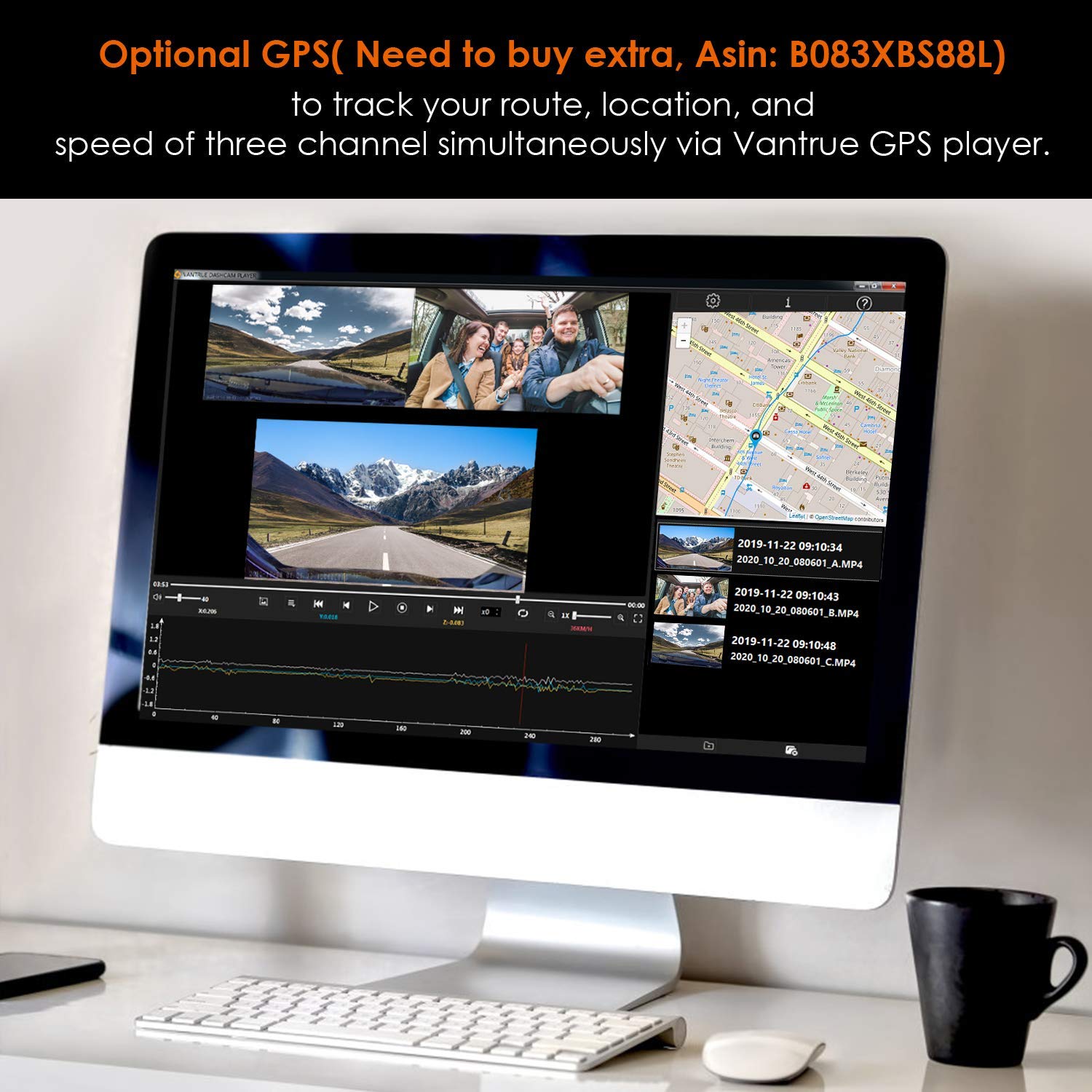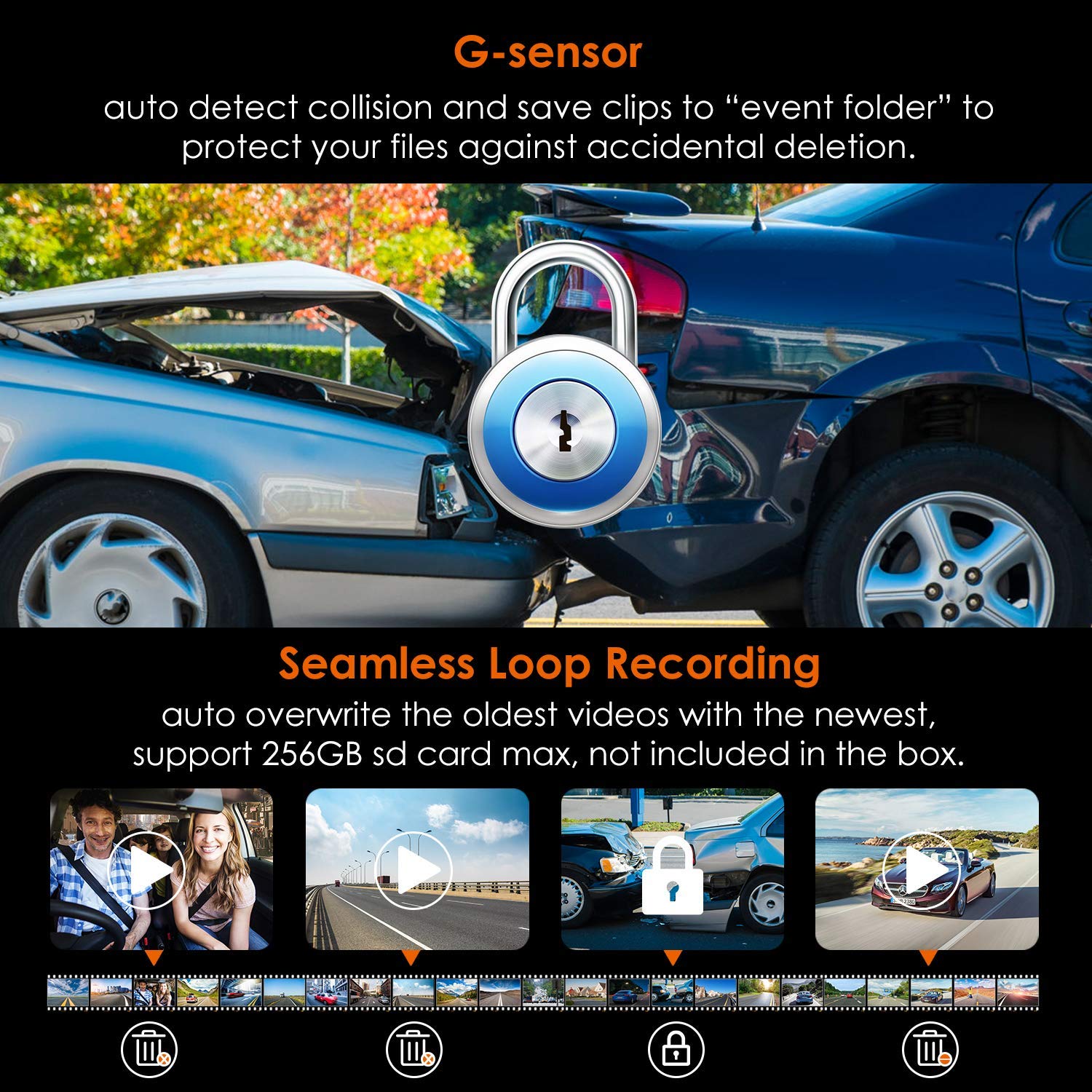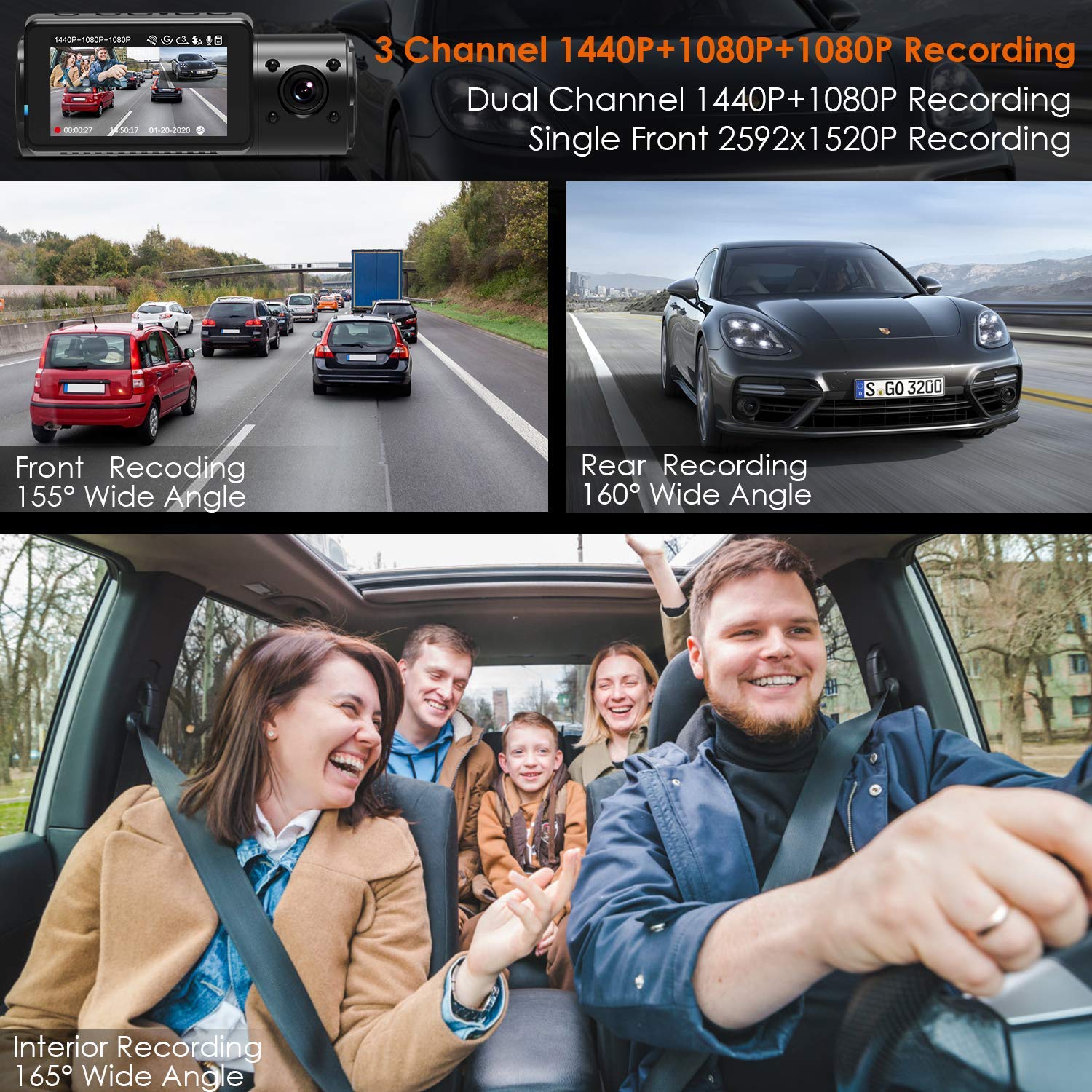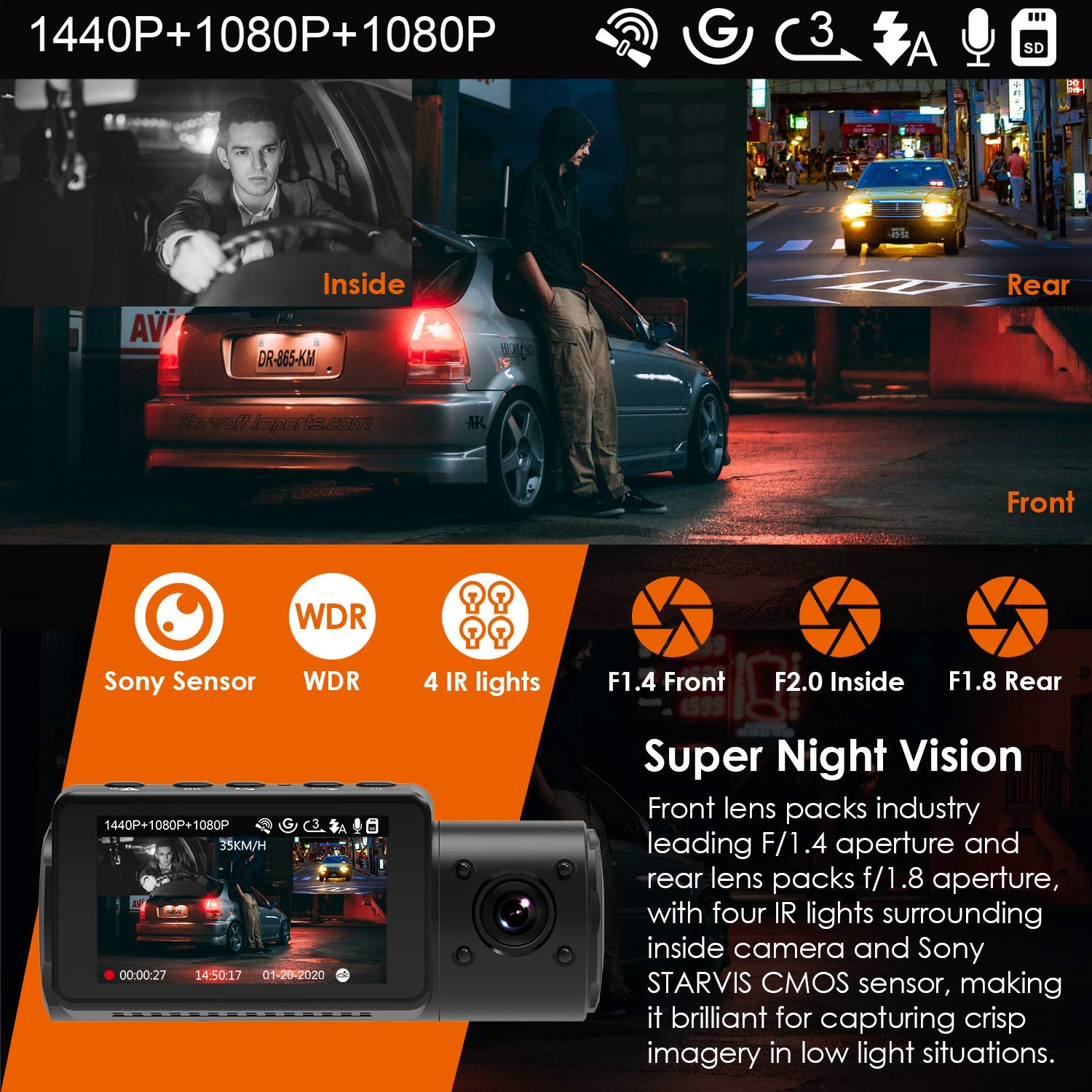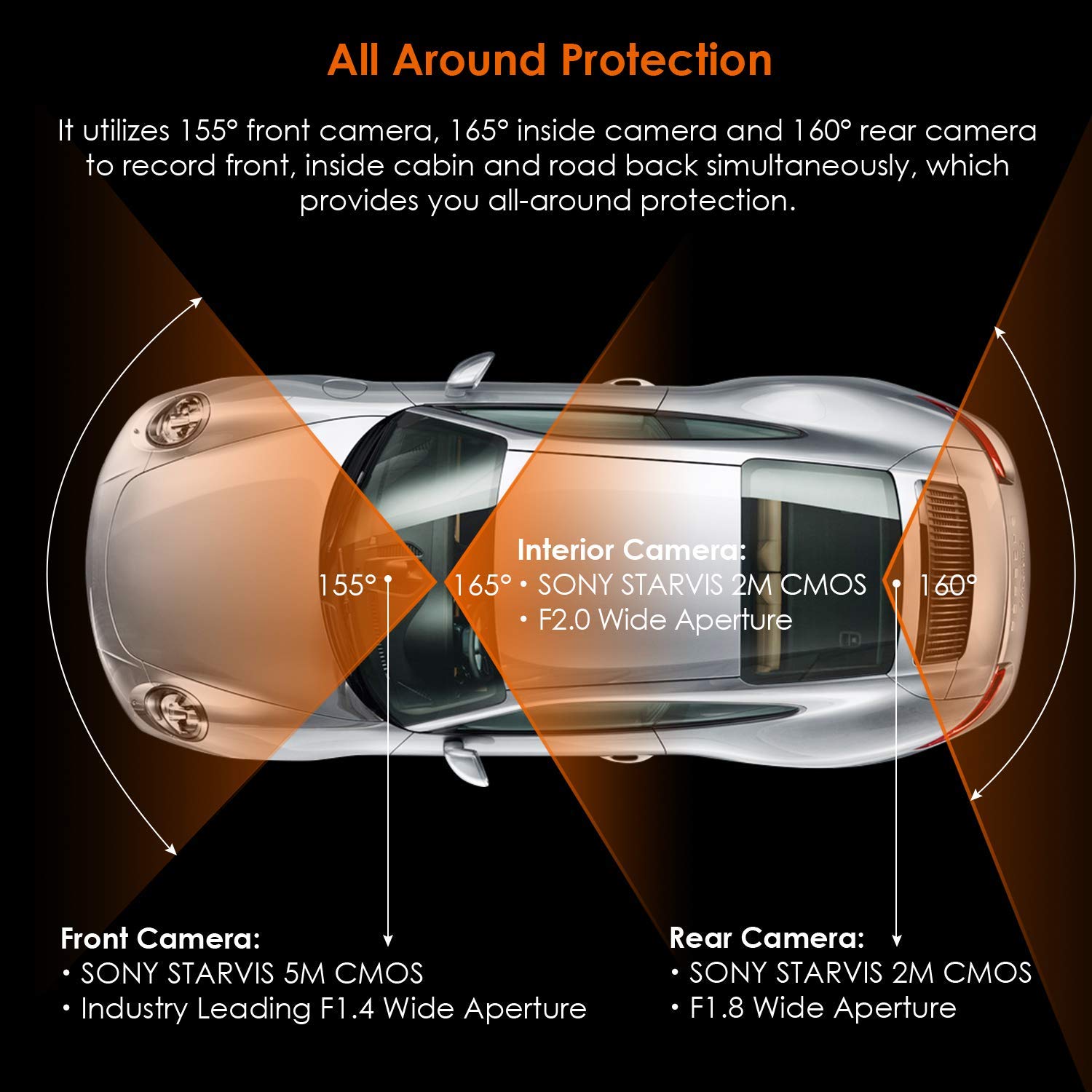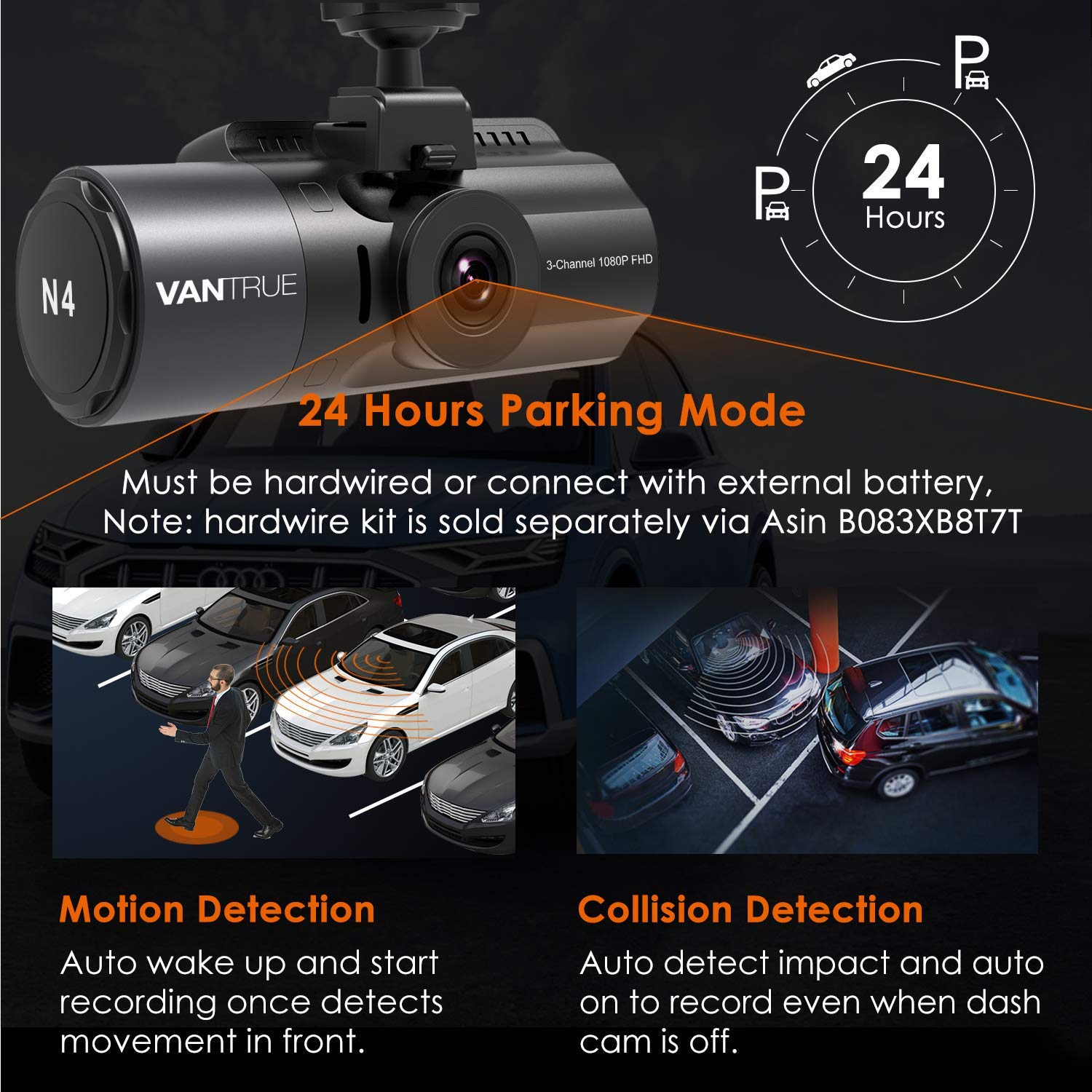 Vantrue N4 Dash Cam 3 Channel 1440P Front & 1080P Inside & 1080P Rear Dash Cam
Sale price
$ 219.99
Regular price
$ 259.99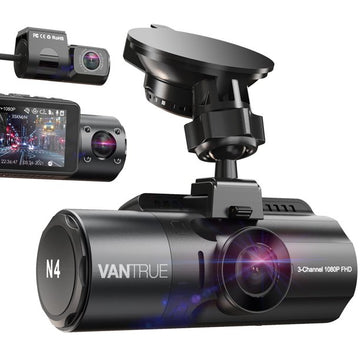 Vantrue N4 Dash Cam 3 Channel 1440P Front & 1080P Inside & 1080P Rear Dash Cam
Sale price
$ 219.99
Regular price
$ 259.99
Product Description
Warranty
MicroSd card not included. It is important to purchase a good quality MicroSD card. Vantrue recommends their memory card and we also recommend the Sandisk Ultra A1 or Samsung Evo Select. Other Sandisk SD cards do not work well with dash cameras. It is also important to buy from a reputable source because there are lots of counterfeit SD cards for sale online. If you would like help picking one out just ask.
【3 Channel Dash Cam】The N4 offers 155° front camera, 165° inside camera and 160° rear camera to record front, inside cabin and road back simultaneously at 1440P+1080P+1080P at 30fps, which gives you all-round protection when you're on the roads. Dual recording mode captures a crystal clear 2560x1440P@30fps in the front and 1920x1080P 30fps inside cabin or rear. The front camera can seamlessly record up to 1520p when use alone, enabling clear capturing of license plates and road signs.

【Super Night Vision】With high-performance Sony STARVIS CMOS sensor, a big F1.4 aperture 6-glass lens observing road front, F1.8 6-glass lens observing rear of your car, this dash cam is able to increase exposure automatically in dark situations for capture clear videos footage; 4 IR LED lights facing the vehicle occupants, which can accurately capture the whole cabin even when the cabin is completely dark.

【24 Hours Parking Mode】24 hours Parking mode can be triggered by the motion detection or collision detection with continuous power supply. Motion Detection auto record when people or objects comes in front of your car; If an impact is detected when dash cam is off, collision detection enables the dash cam to auto on to record the impact. The dashcam should always be connected to hardwire kit(need to buy extra) or external battery for parking mode.

【Heat Resistant with Super Capacitor】The Vantrue N4 dash cam is super capacitor powered instead of lithium batteries, which are build to survive extreme weather conditions from 14°F to 158°F. ideal for hot weather areas like Arizona, Florida, Texas, or extremely cold areas. And it also gives a longer life-span than lithium-ion battery dashcams.

【Reliable Witness for Accident】Variable sensitivity G-sensor emergency locks videos to event folder following impact, loop recording auto overwrite the oldest file when card is full, auto LCD off avoid distracting, capable of housing up to 256GB of external memory(not in the box, recommend Vantrue sd card), firmware updates for continuous improvements and new features, optional GPS (need to buy separately) to track route, location and speed. Full 18m Warranty, email replies within 24H.
What's in the Box?
1x Dash Cam with Suction Cup Mount

1x Rear Camera with 20ft Extension Cable

1x Car Charger with 11.4ft Type C USB Cable

1x Type C USB Data Cable 3ft

1x Adhesive Sticker

1x User Manual

1x Quick Guide
Supports up to 256GB, not included in the box
Recommend Vantrue Micro SD Card, please DON'T use Sandisk Ultra Card and Transend Card.
Sensor: Sony Starvis CMOS Sensor

Display: 2.45 inch IPS LCD

Audio: Built-in microphone and speaker

USB Port: Type C USB

Video Format: MP4

Front+Cabin+Rear Mode Resolution: 1440P+1080P+1080P@30fps Max

Front+Cabin Mode Resolution: 1440P+1080P@30fps Max

Front+Rear Mode Resolution: 1440P+1080P@30fps Max

Front Mode Resolution: 2592x1520P@30fps Max

External Memory: Micro SD card (U3 or higher, up to 256GB)
Warranty:
We are official, authorized dealers for all the products we sell. Warranties from the manufacturers are as follows. 
Blackvue:
Please refer to your product's manual for warranty information. As a general rule, BlackVue dashcams and add-on products (Power Magic Pro, Power Magic Battery Pack, etc.) bear a one-year warranty period. Memory cards are covered by a 6-month warranty, and consumables such as tapes, cable clips, etc. are not covered by a warranty. However, even within the warranty period, if the malfunction is due to user's negligence, repairs may be handled for a fee.
A receipt or any proof of purchase will be required to determine the product warranty period. You must retain your purchase receipt or other proofs of purchase to receive warranty service.
Blackvue support email - cs@pittasoft.com
Blackvue support phone number - 844-694-4469
Thinkware:
Thinkware Dash Cam North America warrants to the original purchaser for the following period from your purchasing date against deficiencies in material and workmanship under normal use. Should this unit fail to operate in a satisfactory manner within the warranty period, Thinkware will at its discretion, replace or repair the product. We may use functionally equivalent, similar (if model is discontinued or out of stock), reconditioned, refurbished, remanufactured, pre-owned or new products or parts.
Main Dash Cam unit in Box: 12 Months
All Accessories: 12 Months
MicroSD Card: 6 Months
​A camera unit's warranty is tracked via original purchase receipt.
 
If service is required please contact us by email at support@thinkware.com or phone at +1(844) 865-9273 (Monday – Friday from 8am – 5pm, and Saturday from 9am – 5pm PST).
​What this warranty does not cover:
This limited warranty does not cover:
If the device was not purchased from an authorized Thinkware retailer.

Device malfunction due to the normal wear and tear, misuse, lack of maintenance, accidents, modification, alteration or repairs by an unauthorized person or entity.

Products that are operated in combination with ancillary and/or peripheral equipment not furnished or otherwise certified by Thinkware for use with the product or any damage to the products or ancillary and/or peripheral equipment as a result of such uses.

Thinkware is not liable for any damages (properties, business, and/or indirect damages), loss or corruption of data for any reason, product damage or personal injuries that occur due to accidents or natural disasters.

Thinkware Dash Cam records and saves video of vehicle accidents. It does not, however, guarantee to record all accidents. Accidents with a light impact that is not enough to activate the impact detection sensor may not be recorded.
Vantrue:
Vantrue dashcams carry a 18 month manufacturers warranty. Vantrue accessories carry a 12 month manufacturers warranty. Warranty repairs/replacements are administered by FFB Tech. 
Vantrue offers email/chat support on their website. vantrue.net